The Lions toured down to South Africa in 1938 with the conflict in Europe looming large. This tour also travelled with little expectation as the Springboks under Danie Craven were considered unofficial world champions having won series in Australia and New Zealand. The Lions were skippered by the Irish forward Sam Walker and although they missed some leading names of the day, including Wilf Wooller and Cliff Jones, they still had some bright performers of their own in winning 17 of their 23 matches.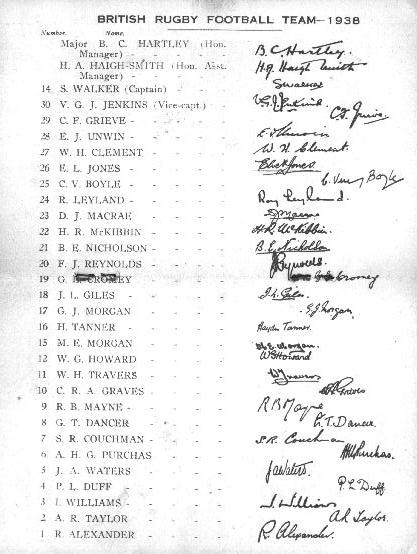 Thanks to www.rugbyrelics.com who have many other offerings.
The Lions lost the Test series 2-1 but they contributed fully in three of the most memorable Tests ever seen in South Africa, scored more points than any previous visiting team. Among the standouts were scrum-half Haydn Tanner, centres Harry McKibbin and Bill Clement, and full-back Vivian Jenkins in the backs, while hooker Bill Travers and back-rowers Laurie Duff and Bob Alexander impressed at forward.
The Lions led three times in the opening half of the first Test but ultimately lost 26-12 to what Craven rated as one of the best Springbok performances of all time. In the second, the Lions had another opponent to contend with, the 96-degree heat of what became known as the Tropical Test. Duff scored the Lions' first try of the series but the sapping heat contributed to their 19-3 defeat. With the series sealed, the Springboks went into the final Test overconfident and under-prepared. That should not detract from one of the great rugby fightbacks, though, as the Lions, fielding a record eight Irishmen, overturned a 13-3 half-time deficit to win 21-16