The 1980 tour to South Africa was always going to be a tough call as it went without the support of the Government and was opposed by various factions against apartheid. The tour was approved however by the Home Unions. This tour was the first of the short tours playing just 18 games over 10 weeks.
The tourists had Bill Beaumont as captain with Syd Millar as manager and Noel Murphy as coach. They had a playing  record of won 15 and lost 3.  However the losses were all in the tests so the series was lost 1-3.  The test match scores were; SA 26 Lions 22, SA 26 Lions 19, SA 12 Lions 10 and in the final test SA 13 Lions 17.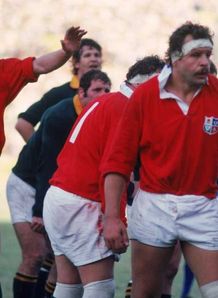 The tour was marred by a high number of injuries and replacements that must have impacted on the side when it came to the tests and probably contributed to the loss of the series.